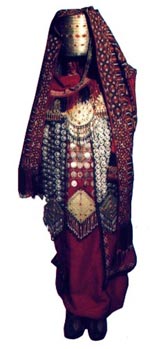 Female nation costume. 19-20th cent.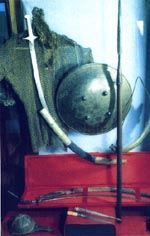 Ammunition of medieval Turkmen warrior
Ethnography is presented in two halls of the first floor and in one hall on the ground floor. In the open space between them a giant carpet Saparmurat Turkmenbashy with classical Teke ornament is hung. It size is 12x20 meters. In the ethnography halls domestic things, women, men and chilldren national clothes, examples of Turkmen weapons, folk musical instruments, manuscripts, elements of traditional dwelling houses of Turkmens in 18- beginning 20 centuries. Its integral part was several coloured wool carpets- true masterpieces of folk art, that obtained world-wide reputation. Dark, brown-red tints prevail and ornament and colours differ in accordance with local artistic traditions of different Turkmen tribes and areas: Teke, Yomud, Kerki, Gyzylayak etc. Sizes and patterns of carpets determined by their destination: big carpets (gilems) were laid on the floor, carpets of smaller size served as door shielding (ensi), various carpet torbas and chuvals were used for keeping and carrying of domestic stuff. The exhibited in the halls ancient carpets alow to evaluate the high art of Turkmen carpet-makers.

Considerable place in Turkmen folk art belongs to ornament of women dress and first of all to the brideis attire. The most vivid manifestation of this tradition are embroidery on fabrics and jewellery articles from from silver with gilding using rare mineral and engraving. Special silver ornament were made for famous Akhal-Teke horse which did not just played the main role in the local history but still remained for Turkmens an object of true cult.
Teke carpet. 19th cent.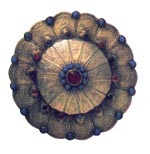 Collar clasp (gul-yakah). 19th cent. Silver-gilt set with turquoise and coloured glass.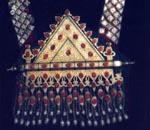 Pestoral amulet-holder (tumar). 19th cent. Silver-gilt set with cornelian glass